There are three primary types of hamster cages.
Aquarium
Aquariums for hamsters are 4-sided and made of glass or plastic.
Aquarium Cage Advantages
You can easily see into the aquarium, giving you lots of opportunities to view your hammy.
Glass or plastic aquarium sides are very difficult for your hamster to climb up. This reduces the chances of your hamster escaping.
The bedding is not scattered all over the area around the aquarium because there are no openings on the bottom.
Probably the best cage for the smaller dwarf hamster.
Aquarium Cage Disadvantages
Glass aquariums are usually heavier than other types of cages. Ask yourself if you can lift and move the cage easily to clean it.
Glass aquariums can shatter if dropped.
Ventilation can be a problem. Ammonia fumes from dirty bedding can build up and harm your hamster.
You need a secure lid to keep your hamster in and other pets out. A wire top is preferred to a thin screen mesh because it is more difficult for your hamster to chew through it.
If the secure lid does not have clips, you will need a freestanding running wheel and water bottle or dish.
Plastic aquariums can get scratched over time.
For more information about glass cages, read 3 Critical Guidelines for Choosing an Aquarium Hamster Cage. 
NOTE: It is best to buy a glass aquarium at your local pet store as shipping can result in you receiving a broken aquarium.
Wire Cages
Wire cages for hamsters are made of metal wires, spaced close together. Most have a plastic or metal base on the bottom.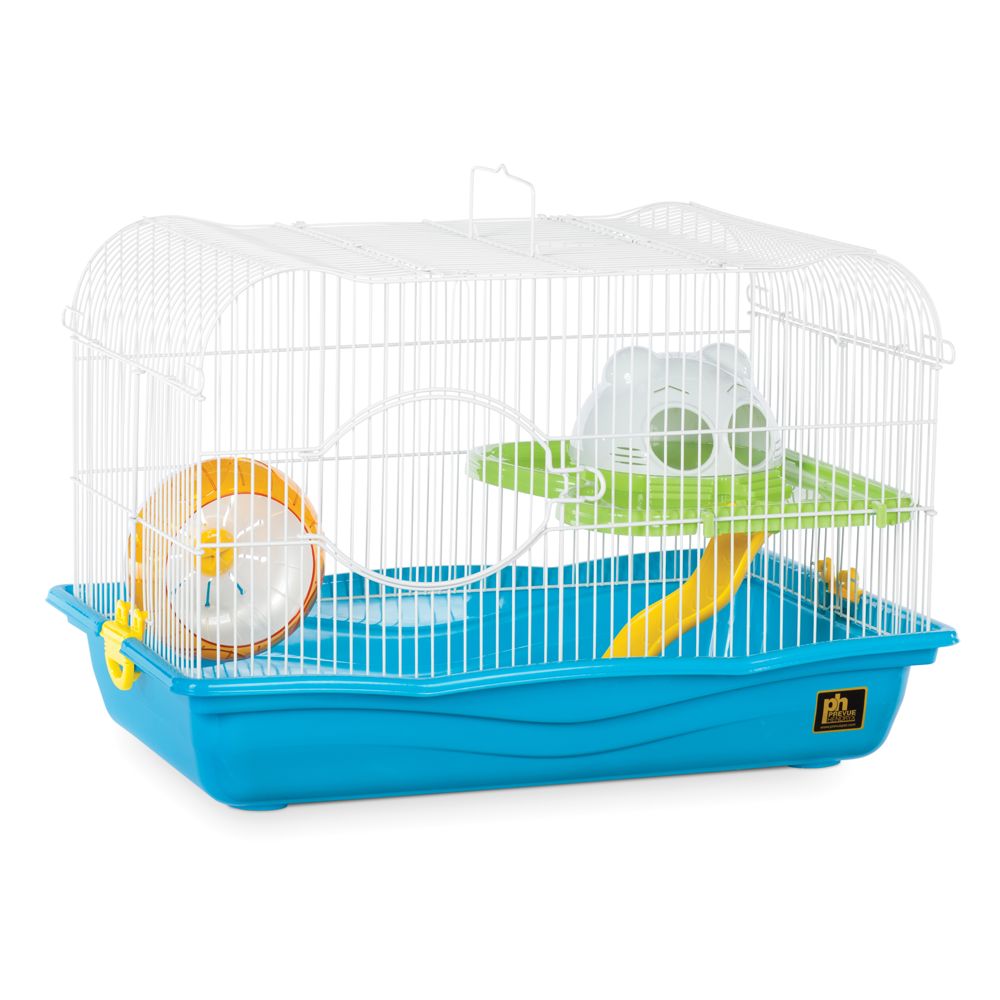 Wire Cage Advantages
Lightweight
Provides good ventilation
Hamster love to climb up the wire bars. You can also add more climbing space by attaching wire ladders to the sides of the bars, creating a multi-level cage.
You can attach items such as a water bottle and a wheel from the wire sides.
The wire frame usually detaches from the bottom tray, making cleaning easier.
Wire Cage Disadvantages
Not good for dwarf hamsters unless the wires are very close together. If the space between the bars is too large, your hamster will crawl through and escape.
If the cage is in a drafty location, such as near a window, the open bars will let drafts through which can cause problems for your hammie.
Some hamsters tend to gnaw on the wire bars. Some people find the noise distracting. Also some wire bars are painted. Chewing on this paint is harmful to the hamster.
A shallow plastic bottom (smaller than 2 inches / 5 cm) means when your hamster burrows, his or her bedding could come flying through the wire and cause a mess outside the cage.
For more information about wire cages, read Guidelines for Buying a Wire Hamster Cage.
Wire and Plastic Cages
Plastic cages for hamsters are made up of colorful plastic on top and bottom and have metal bars in the middle. They may also be called hamster habitats.
Wire and Plastic Cage Advantages
Colorful and bright as the plastic comes in many different colors.
Many have holes to which you can add tunnels and tubes to expand the size of the cage.
Deep base means bedding material is more likely to stay in cage.
Wire and Plastic Cage Disadvantages
Assembly can be difficult. Instructions can be poor and all pieces must fit snugly together.
Plastic cracks easily, especially when you are trying to put the cage together and must be twisting and maneuvering the parts.
Some doors are snap-in, instead of latch, meaning it is easier for your hamster to escape.
Plastic wheels attached to sides can make a lot of noise when your hamster is running.
Must take everything apart to clean all pieces. Note that some plastic cages have a one piece top which makes cleaning easier.
Plastic scratches more easily than glass.
Larger hamsters can get stuck inside plastic tubes.
For more information about combination wire and plastic cages, read Tips for Choosing Plastic and Wire Combination Cages.
NOTE: All-Plastic Cages
This type of cage is composed of all plastic. Because of a lack of ventilation, these cages should be avoided.
Save
Save
Pin It