Hamster behaviors are appealing and building a hamster habitat with connecting tubes only make those antics more fascinating. In their natural environment hamsters live in burrows with winding tunnels connecting to small chambers.
Hamster connecting tubes are plastic or acrylic passageways that emulate this environment by linking together different parts of the hamster habitat into an integrated living space. Hamsters love to scramble through these simulated tunnels that cater to their natural instincts.
Extending the living environment
Your hamster's basic living environment can be boring, both for the animal to live in and for you to watch. Adding hamster tubes gives your pet more room to explore. The running and climbing involved provides your pet with exercise and intellectual stimulation. You as the owner get not only the satisfaction of knowing you have provided a better life for your pet but the amusement of watching it interact with its enhanced environment.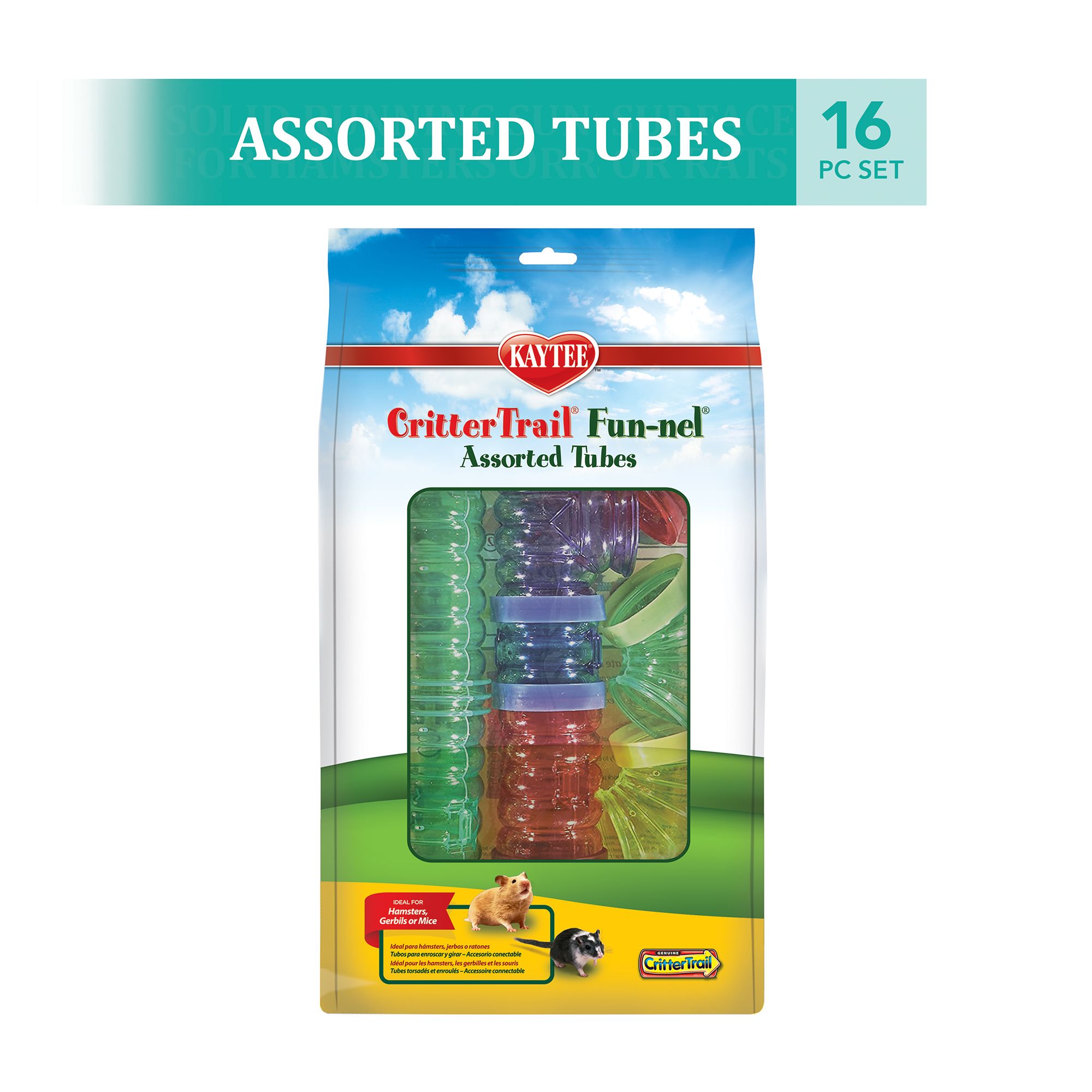 Before you design your hamster's home, put yourself in the animal's place. You are just a few inches tall, and if you stand on your hind legs you can reach perhaps four or five inches from the floor. If you add a ladder, elevated platforms, and climbing tubes to its home, your hamster can now move in all different directions.
Design the hamster connecting tubes
Plan to connect the tubes at an angle that the animal can negotiate. Short stretches can be nearly vertical, but tunnels of any length should be only a little above horizontal. Keep in mind that dwarf hamsters may have trouble climbing up tall vertical tubes.
The tunnels can be U or lollipop shapes off a single enclosure, or they can connect two or more hamster cages. They should not be short enough that your pet gets bored, or so long that they get lost or tired.
While the tubes need not lead anywhere other than back to the hamster's living quarters, they can be connected to different and additional living areas for your pet to enjoy. In fact, some hamster cages have holes that let you connect tubes so you hammy can run back and forth between cages.
Like the tubes, these additional running areas should be cleaned whenever they require it. One advantage of the interconnecting environments is that they usually come with plugs, permitting you to shut your hamster in one part of the habitat while you clean a different part.
Think about your pet's safety, too. To a hamster, connecting tubes can be a trap, particularly if the animal is rotund and the passage is small. Make sure the tunnels are of a large enough diameter for your hamster to negotiate at a run, not a wriggle.
Hamster tubes come in segments, either straight or bent, that twist together. Most hamster environments can be created by snapping the tubes together with no tools. Some hamster cages come with holes to which the tubes can connect. Be careful not to twist too hard when connecting the tubes to the holes or the plastic can break.
Like any pet, a hamster depends on its owner to provide it with a suitable environment. Hamster tubes can be an inexpensive and visually appealing option to accomplish that. They represent very good value for the money because they keep you entertained while exercising your hamsters.
For more information, read Hamster Tube Tips.
Save
Pin It