If you're considering getting your first pet, a hamster may be the perfect way to go. Not only do they make great house pets, but also they are reasonably easy to keep, and not as expensive as dogs or cats can be.
But if a hamster will be your first pet you should know what to expect as they go through their short life. That way, you can do what you need to do in order to ensure that they have the best life possible.
How long do hamsters live?
One major fact that new pet owners will want to know is how long hamsters live on average. The actual age at which a hamster dies depends on several factors including the food that it eats, how much exercise it gets, and its general well-being.
You also need to consider that different types of hamsters live for different amounts of time. For instance, while the typical Syrian hamster may have a maximum life span of around 2 ½ to 3 years if properly looked after, a Roborovski could possibly manage around 3 to 3 ½ years. Dwarf hamsters, on the other hand, have shorter lifespans of from about 1 ½ to 2 years.
So you can expect the typical hamster to live from 1 ½ to 3 years.
To give your hamster the best possible chance of lasting a long time, it's important that you, as an owner, care for it properly so it can stay as healthy as possible.
Young active hamsters
During the younger years of a hamster's life, it's usually very active and doing a lot more than when it gets older. There's a good chance that you have already seen a YouTube video where the family hamster is in its ball or running in its wheel or climbing around hamster tubes. You want your hamster to be active so he or she can stay healthy.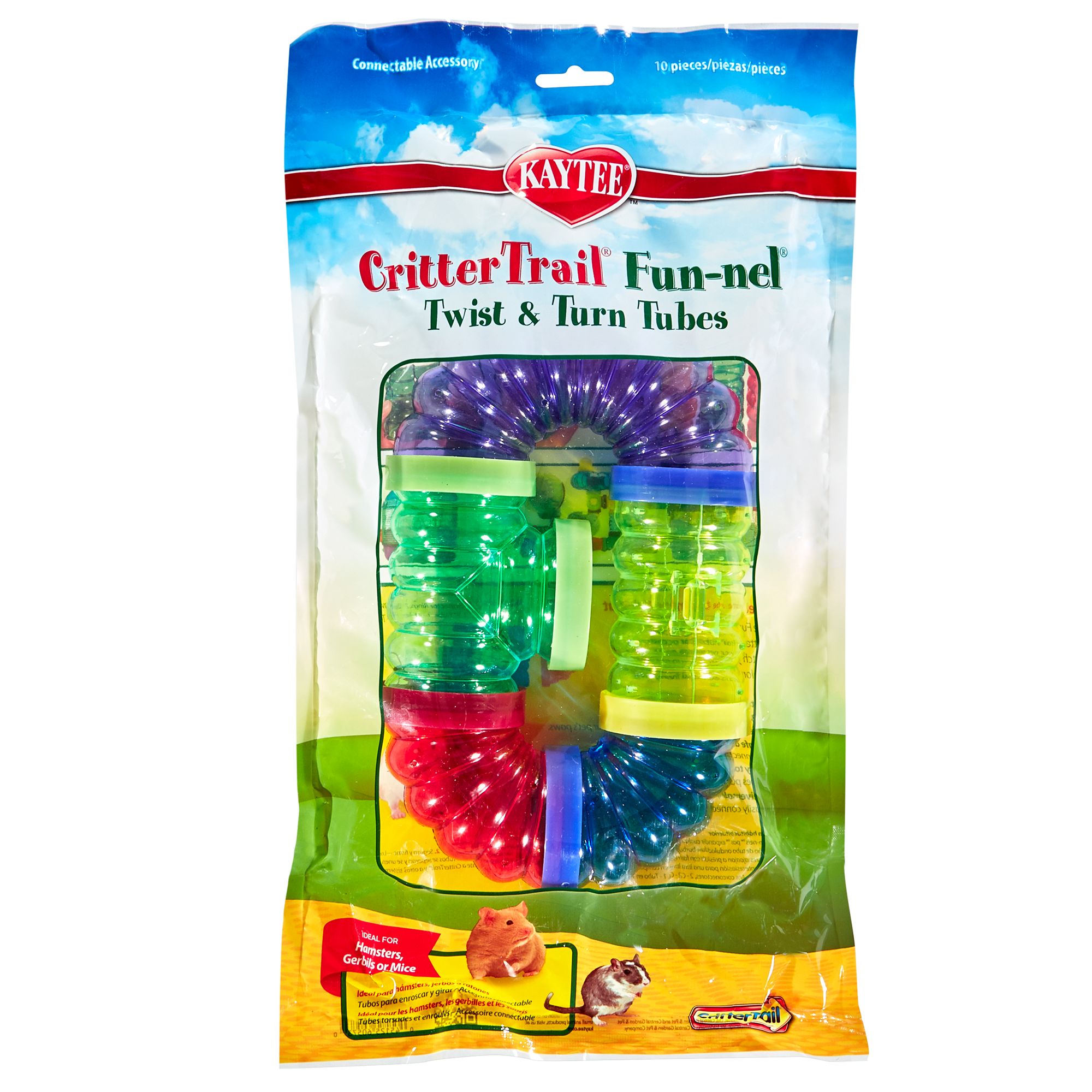 During this stage of their life you'll want to add different items to the hamster cage such as toys, chew sticks, and hamster tubes.
Young hamsters are usually up for playing, running around and, of course, eating. Be careful with the amount and type of food you feed your hamster. You don't want your hamster to become over-sized very quickly. That can shorten its lifespan. For more information about hamster food, read What You Should Feed Your Hamster.
Also, in terms of human interaction, younger hamster can be trained to be friendly creatures. It is crucial that during the first years of your hamster's life, you try to spend as much time with them as possible, as this will help them stay healthy and happy.
Signs of aging and what to look out for
Of course, after the first couple of years your hamster will begin to show some of the telltale signs of aging, and despite what you may think, they are surprisingly similar to humans.
You will notice that unlike before, while they do still enjoy playing, they spend less time doing so, and they will progressively move slower as time passes. Their appetite will also diminish suddenly during the last stages of their lives, and it may come to the point where they go full days without touching food.
However, you can do some things to help look after your aging hamster; such as holding it. For the most part, don't force it to play, but continue making food and water available for him or her.
Hamster death 
Inevitably, at one stage or another, your hamster will die. Now while death is never a pleasant thing to think about, you can do your part to make sure that the process is as comfortable as possible for your pet, and make the struggle as painless as possible.
This mainly involves offering them healthy food and even treats to consume, regularly providing fresh water, and continuing to clean out their cage. If you do not give your hamster the appropriate amount of attention, you may be shortening its lifespan even further. Therefore, it may be a good idea to put the hamster cage in a room where the rest of the family sits, so that they get as much attention as possible.
Finally, when your hamster's time has come, you have a few options to consider. The first is that you can bury him in your back yard as a remembrance, or you can take it to the vets to be disposed of. That's your choice at this point, but if you really treasure your hamster's life, and have some pictures, it might be nice to create a little memorial book.
Summary
Hopefully this article has given you some much needed insight into the life of a hamster, and how you can be the best owner possible. It is worth doing some research before deciding which type of hamster you want to own. That way you can prepare to give it the best life possible and not be surprised about how long it will live.
Save
Pin It