Where's my hamster? What hamster owner hasn't said that at least once? Usually, your hammy will be hiding in its cage – in some tube, under some toy, or deep in its bedding.
But hamsters are explorers and if given the chance, they will get out of their cage and investigate their surroundings. We call it "the breakout" or "the great escape." When it happens, it's usually panic time! Because of their small size and ability to hide, an escaped hamster can be lost forever.
Preventing your hamster from breaking out is your best defense against a lost hamster. There are two primary reasons hamsters escape: Hamster cage problems and owner/handler problems.
Hamster Cage problems
Wire bars spaced too far apart. While Syrian or golden hamsters are about 5 to 7 inches (13 to 18 cm) long, some dwarf hamsters are only 2 to 4 inches (5 to 10 cm) long. So a wire cage built for a golden hamster can have bars that are too far apart for a dwarf hamster. Also, over time, when the cage is used, moved, and cleaned, some of the bars can become spread apart. And it doesn't take much space between bars for a hamster to squeeze its body through.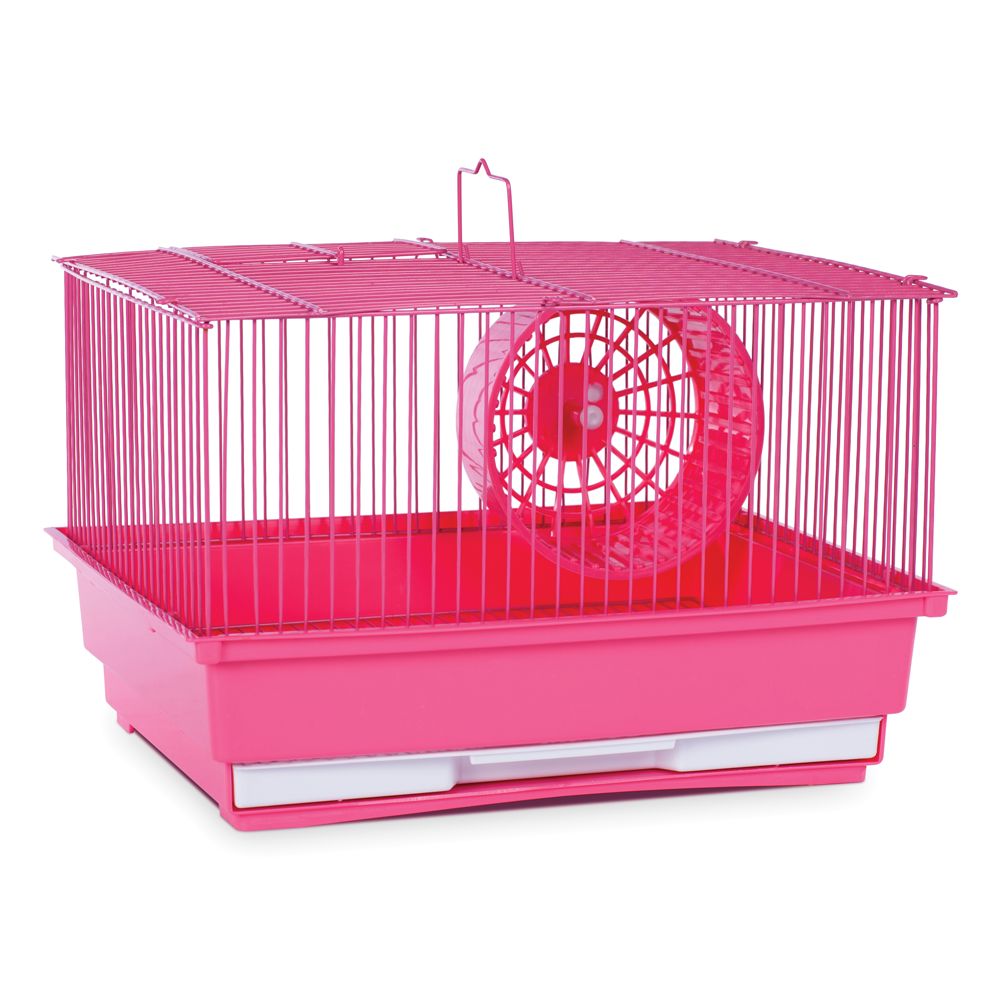 Wire and plastic cages not put together well. A good hamster cage should have pieces that fit together tightly. But sometimes plastic parts don't fit together well. Or maybe the cage pieces just weren't put together tightly enough. This can happen after a cage has been cleaned. Either way, this leaves gaps between pieces that your hamster can get out through.
Aquarium cage top poorly secured. People who use aquariums for hamster cages often use wire mesh to cover the top of the cage This cover must be secured tightly or sure enough, you hamster will figure out a way to climb up to the top and push its way out.
Gnawing through. Hamsters continually gnaw to keep their growing incisors the right length. This means if you're using a wooden cage, your hamster will likely keep on gnawing until they make a space big enough to fit through. Hamsters will also gnaw on plastic tubing which can eventually get too thin, allowing your hamster to break out. Even gnawing on metal bars can eventually spread them apart, giving your hamster an opening to escape through.
Latches. Metal and plastic cages will have a door to get your hamster in and out. Because they are used often, door latches are weak points. They can become loose over time. Your hamster can push against the loose door and away it goes!
For more information about the different types of hamster cages click here.
Owner/handler problems
Not paying attention. When your hamster is outside its cage, someone needs to keep a close eye on him or her. If the hamster is playing in its exercise ball or toy car, keep in mind that these toys can break or be gnawed through. If that happens, your hamster will be off and running. The same attention is needed when you're playing with your hamster. Holding and petting your hamster is great fun. But if you decide to put hammy down on the floor or on your bed, don't think it will just sit there – it may decide to make a run for it.
Handler is too young. Of course you want to share the fun of holding your hamster with other people. But some people, such as very young children, may get surprised by a furry little animal crawling on them and make a sudden movement like jumping. Your hamster will get scared, jump off the person, and likely run away.
Prevention
To prevent your hamster from escaping, keep the following tips in mind:
Check the spaces between wire cage bars to be sure they're close enough to keep your hamster in.
Inspect plastic cages to be sure pieces fit together tightly and there are no gaps
Look over wooden enclosures for spots where the hamster is gnawing through.
Tightly secure the top on an aquarium cage.
Be sure cage door latches are always tightly closed.
Supervise your hamster when he or she is outside the cage.
Taking these safety measures means you won't have to say "Hey! Where's my hamster."
Save
Pin It