There are some steps you should take when you want to let your hamster loose to play inside hamster tubes.
Plan
Plan the layout of your tubes before you start to build them. If you build first, you may find you don't have enough space for the tubes. The tube layout will depend on how you're going to use your tubes.
One option is to have a large hamster cage and keep all the tube pieces inside. You can have small pieces that go horizontally across the cage. Or others that twist and turn in a circle inside the cage. Or make a design that lets your hamster climb from the bottom to the top level of the cage.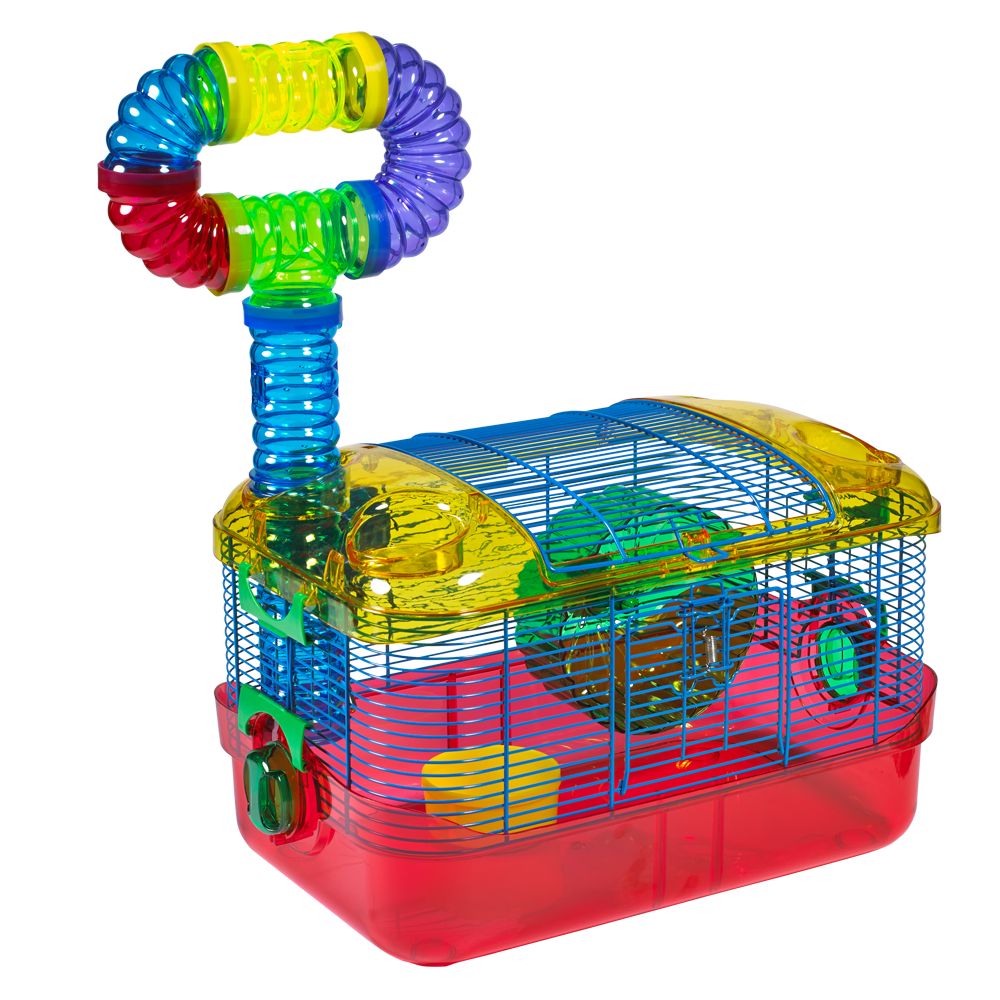 Another way to go is to start with a hamster cage that has some tubes as part of its design. They usually go outside the cage. You can then plan on adding on more tubes to the ones outside the cage. In this way you can keep building until you have a large maze of tubes that are outside the cage.
Some people use two cages and use the tubes to connect the cages and let their hamster run between the cages.
Another simple option is to put together some tubes that the hamster uses just for exercise, like a hamster exercise ball. You put the hamster in the tube maze you've built when you know you'll be there to watch him play.
When planning your layout, do leave some space in the cage for the hamster to rest. Inside the hamster cage you should still have bedding in an area where your hammy can get some rest and sleep, a bathroom area, a water bottle, running wheel, and of course, a food dish.
Build
Attach all the tube pieces carefully according to your plan. Read the instructions and work slowly. Some tube pieces are harder to get together than others and you don't want to break any pieces. Be especially careful if you are attaching tubes to a cage opening. You don't want to leave space that your hamster can escape through.
Getting your hamster to use the tube
Syrians and Teddy Bear hamsters usually take to climbing through the tubes pretty easily. But dwarf hamsters may take some coaxing.
Don't go crazy when you first set up the tubes. Try a few at a time. Give your hamster some time to sniff around the new tubes. Your hamster may be used to burrowing, but plastic tubes are probably a new experience for him. One trick is to put some treats inside the tubes. Your hamster will then climb inside the tube to get the treat. Do this a few times until your hamster gets used to the tubes.
Once you see your hamster easily moving around the few tubes, you can start adding some interesting twists and turns.
Make a circle around the cage, make a maze, or go from one level to another. Add a lookout. Make sure your put the tubes where you can see them so you can enjoy watching your hammy run through them. If you are running tubes horizontally on the floor, leave some space for people to walk around them. You don't want anyone stepping on the tubes and breaking them!
Also consider these hamster tube tips.
Save
Pin It