One of the most typical hamster cages is the wire cage. It's made of metal bars with spaces between them and usually has a plastic base. Below you can read about the pluses and minuses of the wire bars on these cages. For a discussion of wire hamster cage size, height, cleaning, and security, read Guidelines For Buying A Wire Hamster Cage.
Air circulation
As you know, hamsters do a lot of running, so they need plenty of good air flow. The spaces between the bars on a wire cage is a real plus for air circulation. It helps get air in and allows the bathroom fumes to get out. On the other hand, if you put your cage too close to a window or an air-conditioning duct, the cage will be too drafty. Too much cool air can make your hammy ill. So be careful where you locate your wire cage.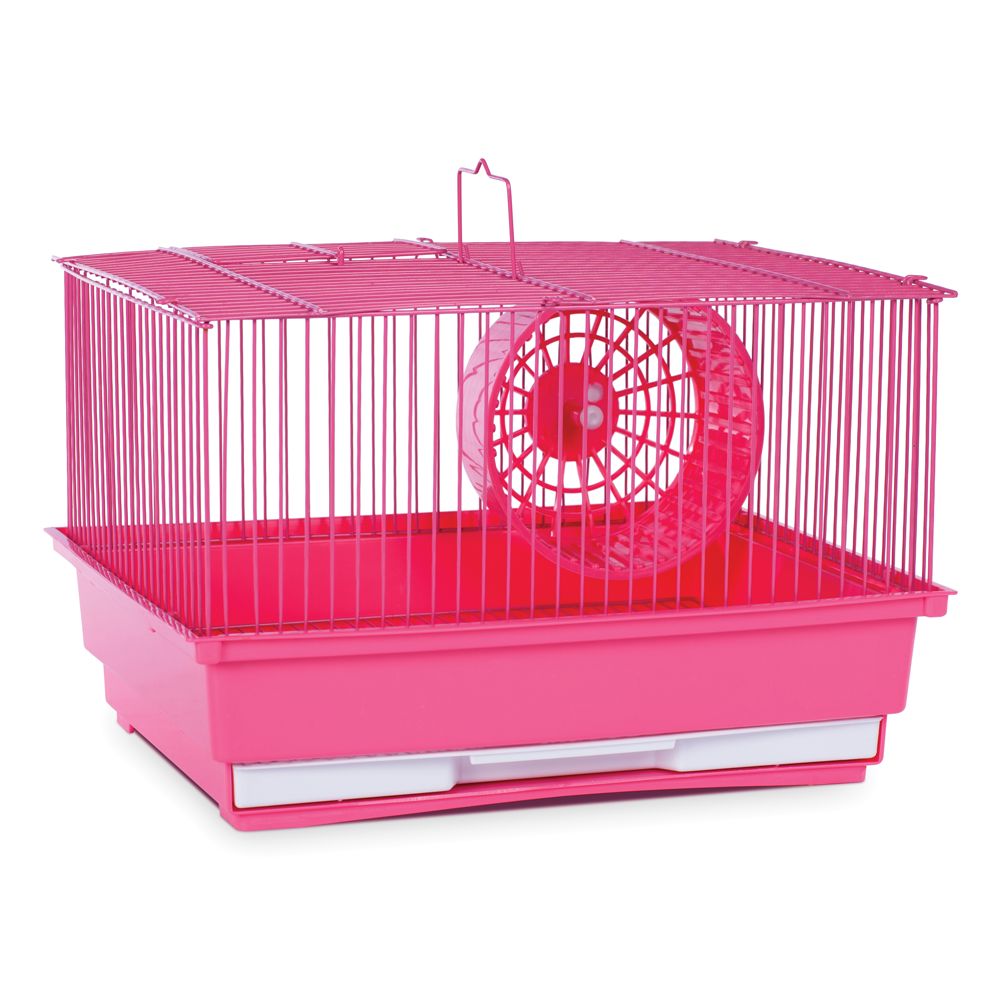 Size of the spaces between bars
The size of the spaces, or how much distance there is between two wire bars, can make a big difference in whether this type cage is the right one for your hamster. Hamsters are escape artists and if the spaces between the bars are too large, your hamster will try to get out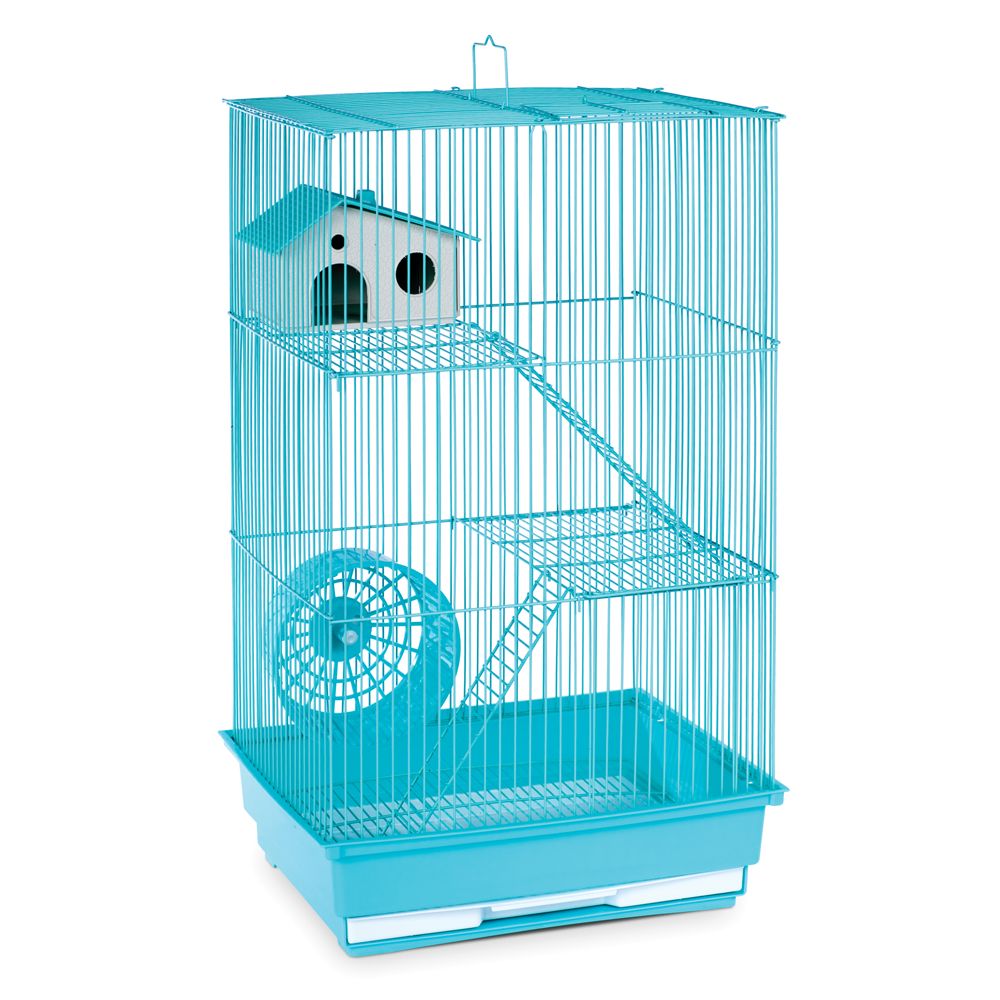 Larger type hamsters, like a Syrian or Teddy Bear, will usually not fit between wire bars that are 1/2 inch apart, so this type of cage is good for them. Dwarf hamsters, like a Roborovski, may be small enough to squeeze through 1/2 inch bars and escape. This is why many people use an aquarium for a dwarf hamster.
When you're thinking about buying a wire cage, check the space between the wire bars. Think about whether or not your hamster can squeeze through the space.
Gnawing
Remember, hamsters need to gnaw on things because their teeth are always growing. Some hamsters are going to gnaw on the wires of the cage. Make sure the wires are chew proof. That means they are not made with paint that can chip off and hurt your hamster. To make sure your hamster has something to gnaw, be sure to keep quite a few chew toys in the cage.
Some hamsters gnaw on the wire bars just because they're bored. So make sure your hamster has enough toys to play with and gets plenty of exercise. Give your hamster some play time outside his or her cage in an exercise ball.
Also, even if your wire cage is chew proof, some hamster owners find the gnawing noise annoying – especially at night.
For more information, read What to Do About Hamster Cage Bar Gnawing.
Security
There are also a few safety considerations when you're thinking about using a wire cage. Small children can stick their fingers between the bars. This lets them touch and play with the hamster. But sometimes little fingers can get caught between the small spaces between the wires.
The spaces between the wires also may mean that your other pets can try to attack your hamster. For example, cats can stick their claws between the bars and try and grab your hamster. If you have a wire cage place it up high enough so that other pets don't try to get to reach your hamster in the cage.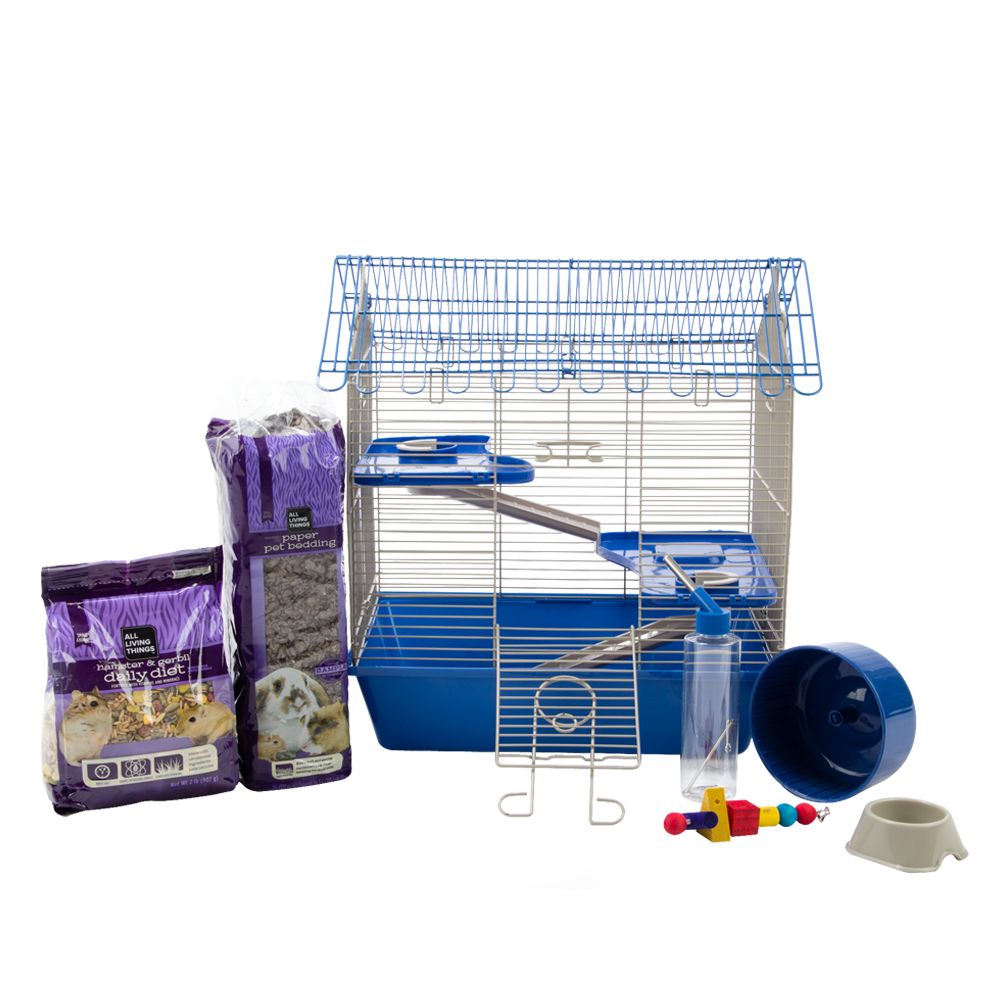 Attaching items
Wire bars can also be convenient when you want to attach hamster accessories. For example an exercise wheel can be attached to the cage. A water bottle can also be attached to the side of the cage. By attaching things to the side of the cage you can get more space at the bottom of the cage so your hamster can have more room to run around.
To buy hamster cages, go to the hamster cages and accessories page.
Save
Pin It