You're ready to buy a home for your adorable and furry hamster. Here are three things to think about before you buy.
Cage Size
Cage Security
Cage Sanitation
Cage Size
A hamster needs room to run, explore, play, and sleep.
Small cages 8 inches long by 12 ½ inches wide by 7-1/2-inches high (20 X 32 x 19 cm). This is adequate for the smaller dwarf hamster (2 to 4 inches; 5 to 20 cm). It is too small for the Syrian hamster (5 to 7 inches; 13 to 17 cm).
Average cage size: 12 inches long by 24 inches wide by 9 inches high (30 X 60 x 22 cm). Provides a bit more room for your hamster to roam.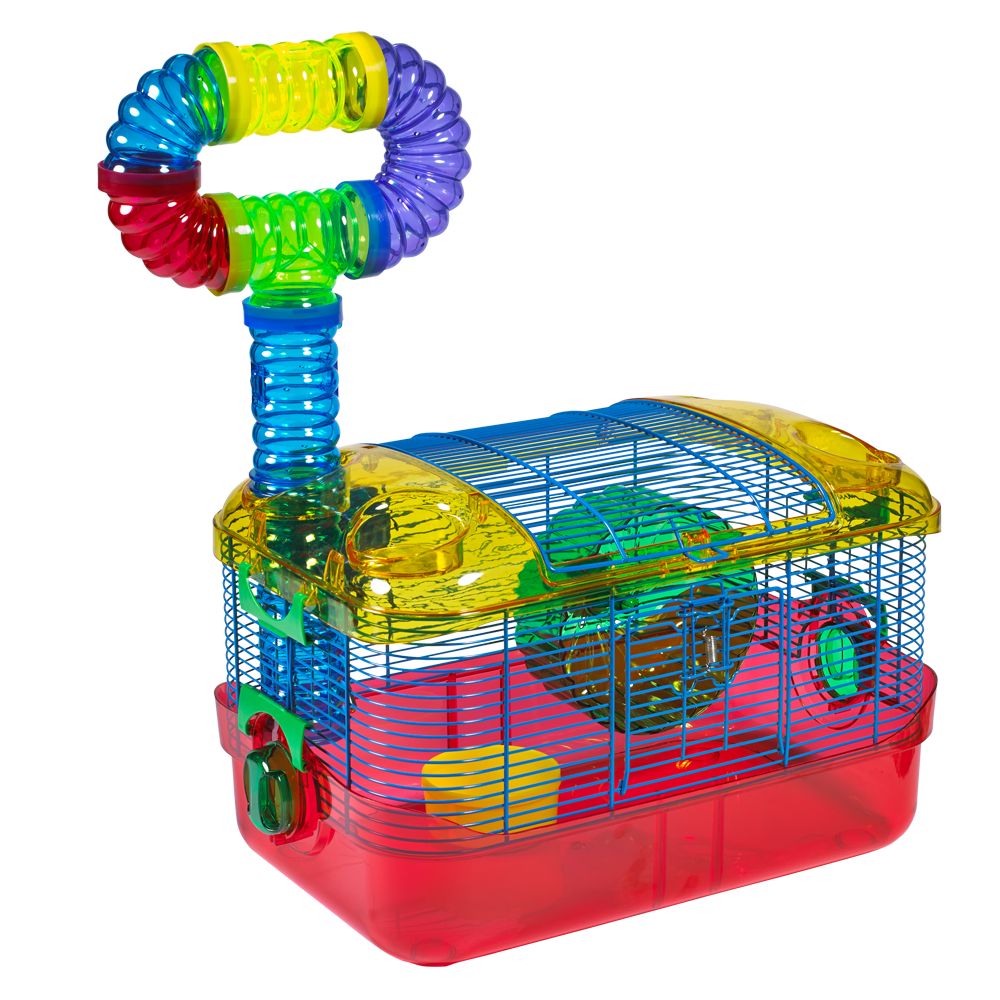 Larger cage size: 16 inches long by 24 inches wide by 12 inches high (40 X 60 x 30 cm). This size will give your hamster plenty of room to exercise and burrow around inside the cage.
Adding height: Some of the cages you will consider have many levels to let the hamster climb and explore. But keep in mind that hamsters are near-sighted. This means they can fall off levels that are too high up in the cage.
On the left you can see a tank topper, which can be used to add height to a 10-gallon fish tank. Many people use an aquarium for their hamster cage.
Adding width: Some cages are designed to be linked together with plastic tubes. Keep in mind that the tube must be large enough for your hamster to fit through. And be sure the tubes fit tightly together or your hammy will surely gnaw his or her way out.
Bottom Tray Depth: When considering the depth of the hamster cage, make sure the cage has a deep bottom tray. A deep tray means the hamster will have plenty of room to burrow and make its home as well as find a place to poop and pee. Deep trays also help keep the bedding material from being spread out all over the area outside the cage.
Cage Security
One of the things your hamster will explore is whether or not they can chew their way out of their cage. Don't take it personally. They just need to chew to keep their teeth in shape and prevent boredom.
Cages to avoid: Cages made of wood. Unless the wood pieces are thick (1/2 inch / 1 cm) and all pieces tightly fit together, you hamster will chew through and escape. Even thick pieces will eventually be chewed through.
Security Considerations
Wire cages: Check that the wire bars are not too far apart. Remember, dwarf hamsters can be as small as 2 inches; Syrians can be 5 inches. If your hamster can fit his or her head through the bars, their body will not be far behind.
Plastic cages: Corners and tubing should fit snugly together. Make sure the plastic is thick. Flexible or bendable plastic can be chewed through.
Aquariums: Corners should fit tightly together. The opening on top is the possible weak spot here. Make sure you use a heavy wire mesh covering (with space enough for ventilation) and keep checking for spots your hamster is trying to gnaw through.
Doors: Hamster cage doors should have latches. Check that these latches are strong and shut tightly.
Cage Sanitation
For the sake of your hamster and your nose, you will want to keep the hamster cage clean. Since you will be cleaning your hamster's home at least once a week, you need to think about how easy, or difficult, the job is going to be.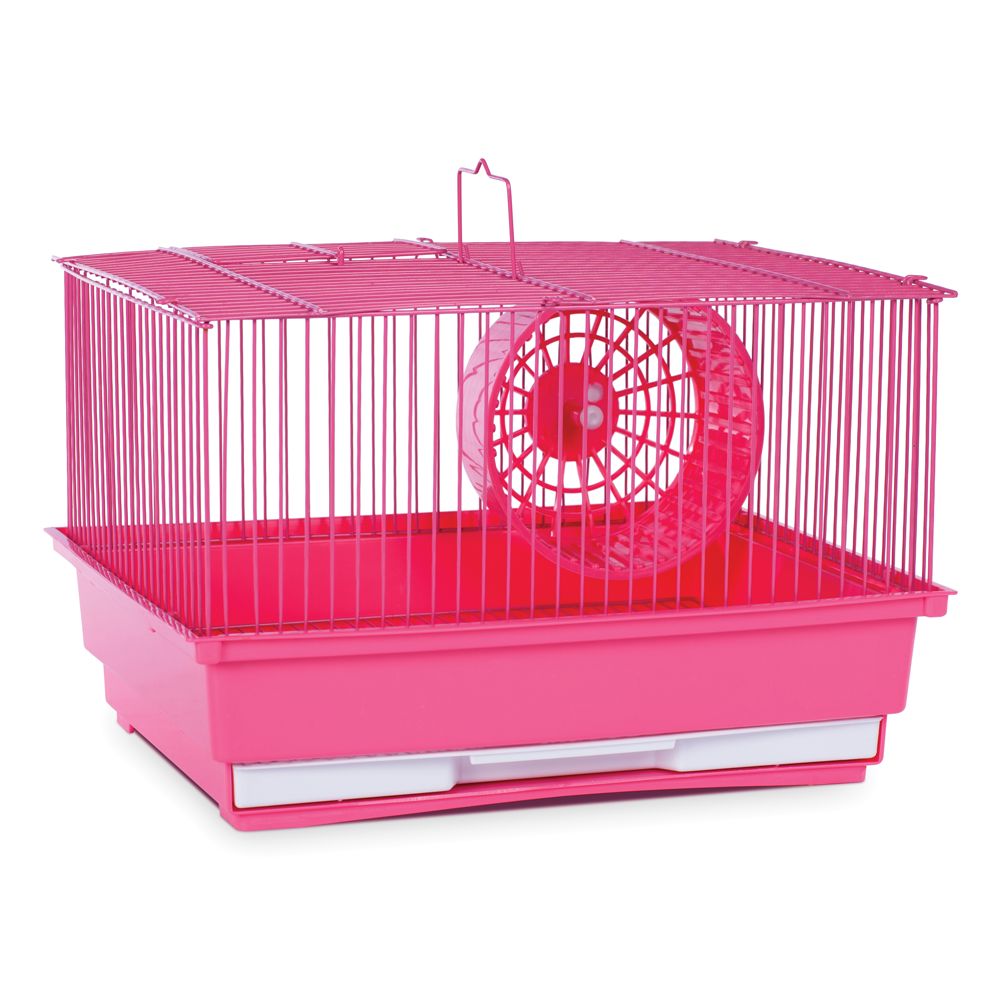 Ask yourself:
How easy or difficult is it to take apart the wire or plastic cage?
As you will be washing it over time, is the wire cage resistant to rust?
Can you handle a glass aquarium when you're washing it out? (Glass aquariums tend to be heavier that other types and can shatter when dropped.)
Keep these three S's – size, security, and sanitation in mind when choosing hamster cages.
Save
Pin It