If you're thinking about buying a wire cage for your hamster consider some of the following: wire cage size, height, cleaning, and security. For a discussion of the wire bars themselves and their pluses and minuses read The Good And The Bad About Wire Hamster Cages.
Size
Hamsters need a lot of room to run around and exercise in. If you're cage is too small your hamster won't get the exercise it needs and will get bored. Your wire hamster cage should be at least 24 inches long by about 12 inches deep (61 by 30.5 cm). Different heights are available. Read the next section for discussion of wire cage heights.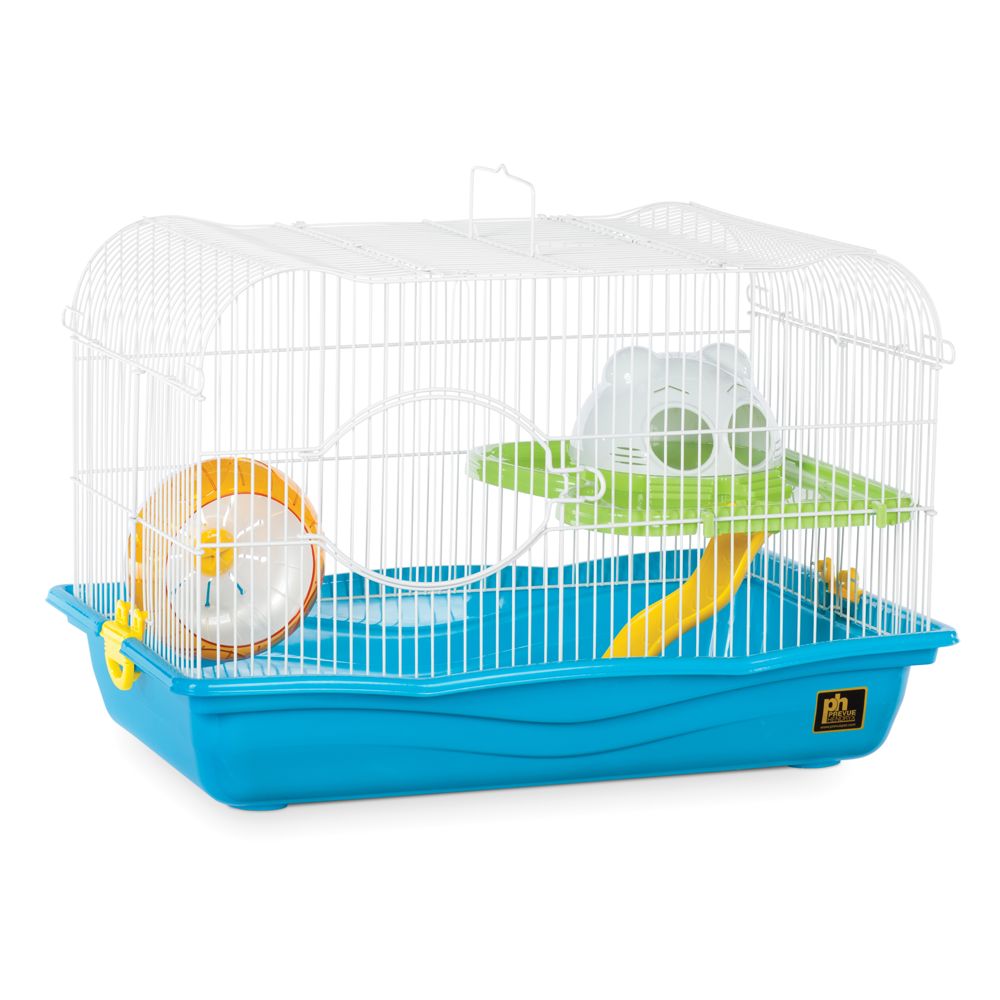 Remember, along with your hamster, your wire cage will also need space for an exercise wheel, a water bottle, some hamster toys, and a food bowl. Then your hamster needs plenty of bedding space for digging around, sleeping, and using the bathroom. So keep your hamster happy by giving him or her enough space to move around in.
Some people use two small wire cages and use an adapter kit to connect them with tubes. This gives your hamster the chance to get more exercise by running between the cages. Cutting holes in wire cages to connect them is not recommended.
Height
Hamsters like to climb around their wire cages. They can get their little feet around the wires and climb all around the bars. Some will try to climb to the top of the cage, even if it two or even three stories. But hamsters can slip and fall. If they fall from a great enough height, your hamster can get hurt.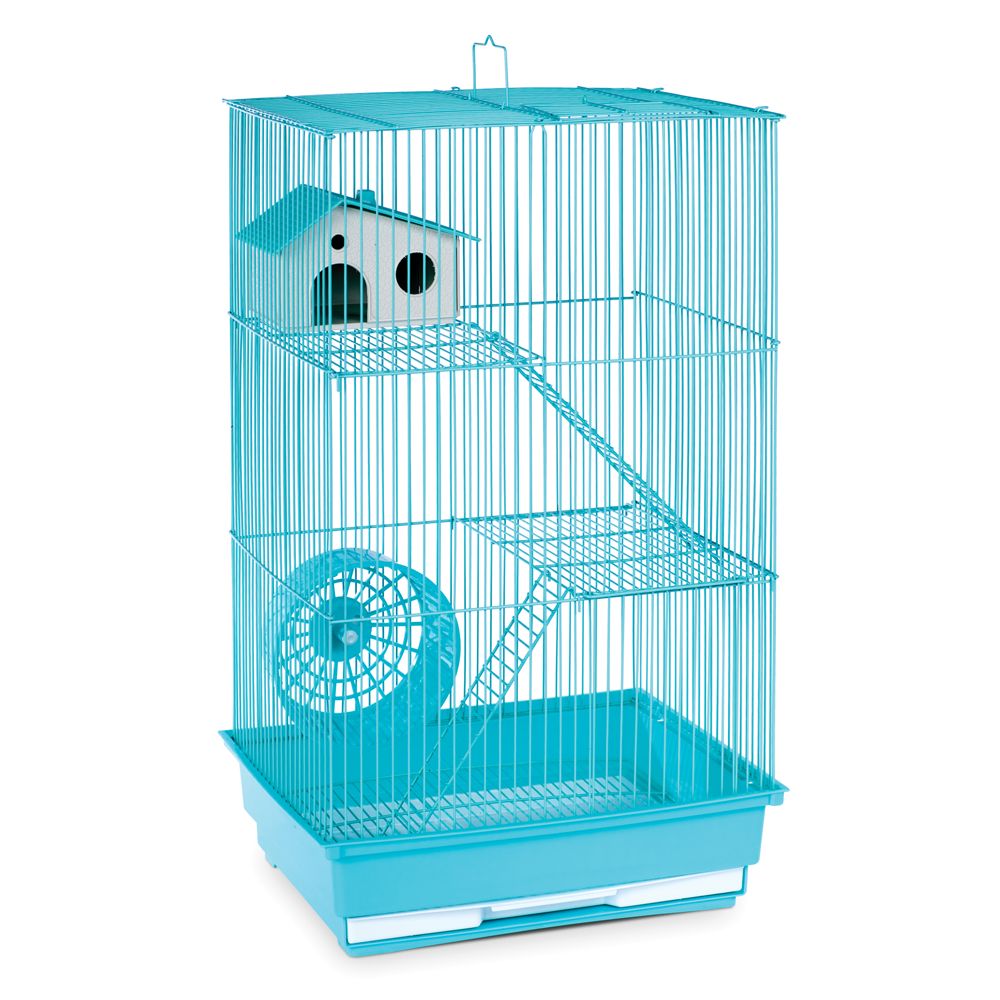 Because of the danger of falling, if you use a tall hamster cage, be sure you have ladders and ramps so your hamster can climb up more easily. You can also use hamster climbing tubes so your hamster can get around its tall wire cage.
Cleaning
Cleaning this type of hamster cage is usually pretty easy. The bars are lightweight and usually just snap out of the sides of the plastic bottom. You can then just rinse the bars off to get them clean. You will still have to do some more serious cleaning for the bedding in the plastic base. See the article called Easy Steps to Clean Your Hamster Cage for more detailed information about how to do that.
After you have replaced the bedding, you reattach the wheel and the water bottle, put the wire cage back on and attach it back to the plastic base. You are then ready to put your hamster back in its clean cage.
When you're putting the cage back together is a good time to decide if you want to move things around. You may want to change the way things are hooked up or where the hamster toys are located. Sometimes your hamster can get bored if he or she has the same layout all the time in its cage. So move some tubes around or put new tubes in or change the location of different toys in the cage. This will give your hamster something new to explore and keep him or her from getting bored.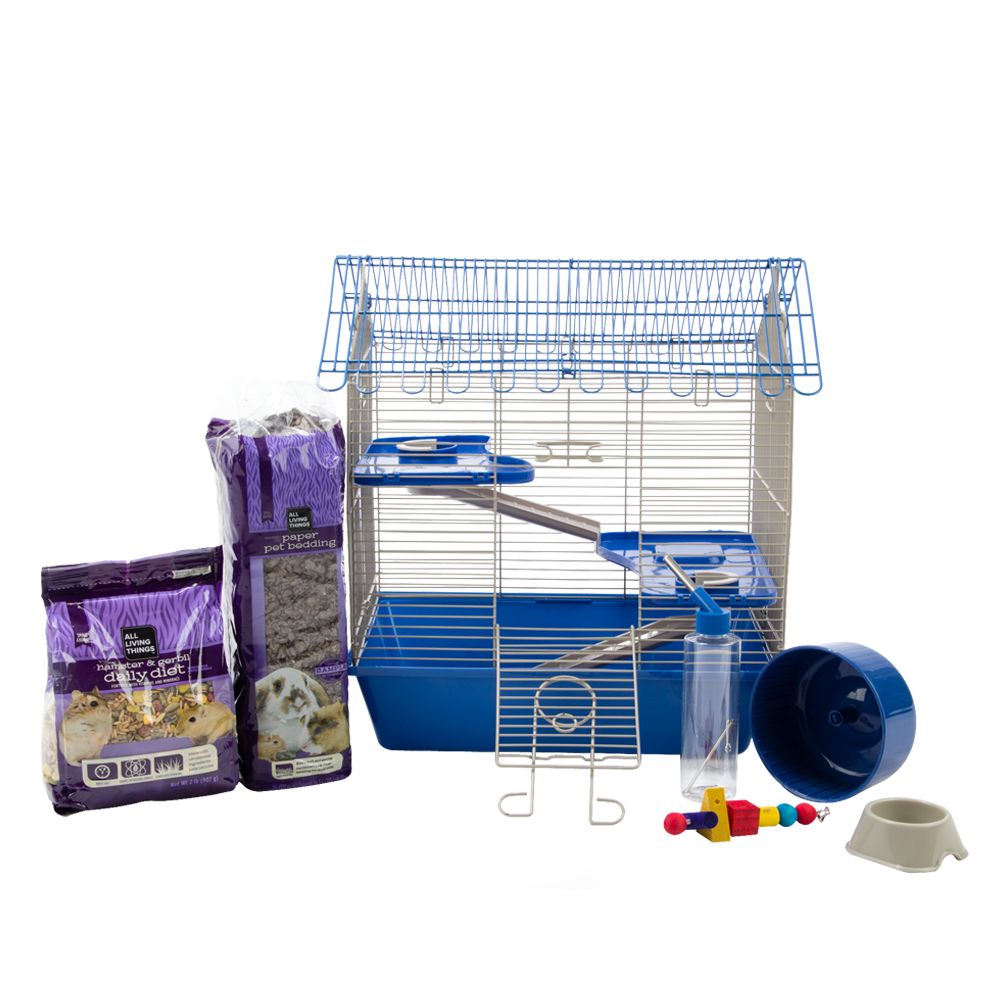 Plastic base depth
The plastic at the bottom of the cage is for holding the bedding and any hamster toys you want to put in. Make sure the plastic bottom is deep enough to hold about 2 inches of bedding. This will let your hamster have room to burrow and sleep and make a place to go to a bathroom.
However, because the cage has spaces between the wires, when your hamster starts kicking up his or her bedding or throwing around their food, some of it is likely to get through the bars and onto the space around the cage. Plan on leaving some room around the cage for this bedding. You'll have to keep that area clean if you have this type of cage.
Security
The metal door on the wire cage should also be looked at carefully when you're buying this type cage. You want to be sure it's snaps tightly to the wires of the cage because if it's loose your hamster will figure a way to pry it open and escape. Some people even use an extra piece of wire to tie the door to the wire bars so the door stays well sealed.
Consider all these things before you buy your hammy a new wire cage. As an alternative, you may want to think about using an aquarium for a hamster cage.
Save
Pin It