It's not advertised as a cage, but a fish aquarium can be a good choice for a hamster cage. However, there are some serious considerations when you're thinking about using a fish tank for your hamster to live in. (You can read Using an Aquarium for a Hamster Cage to learn about its benefits.)
Size
Hamsters need space to run, hide, and play. So make sure your glass cage is at least 10 gallons. A 20 or even a 30 gallon tank would be even better.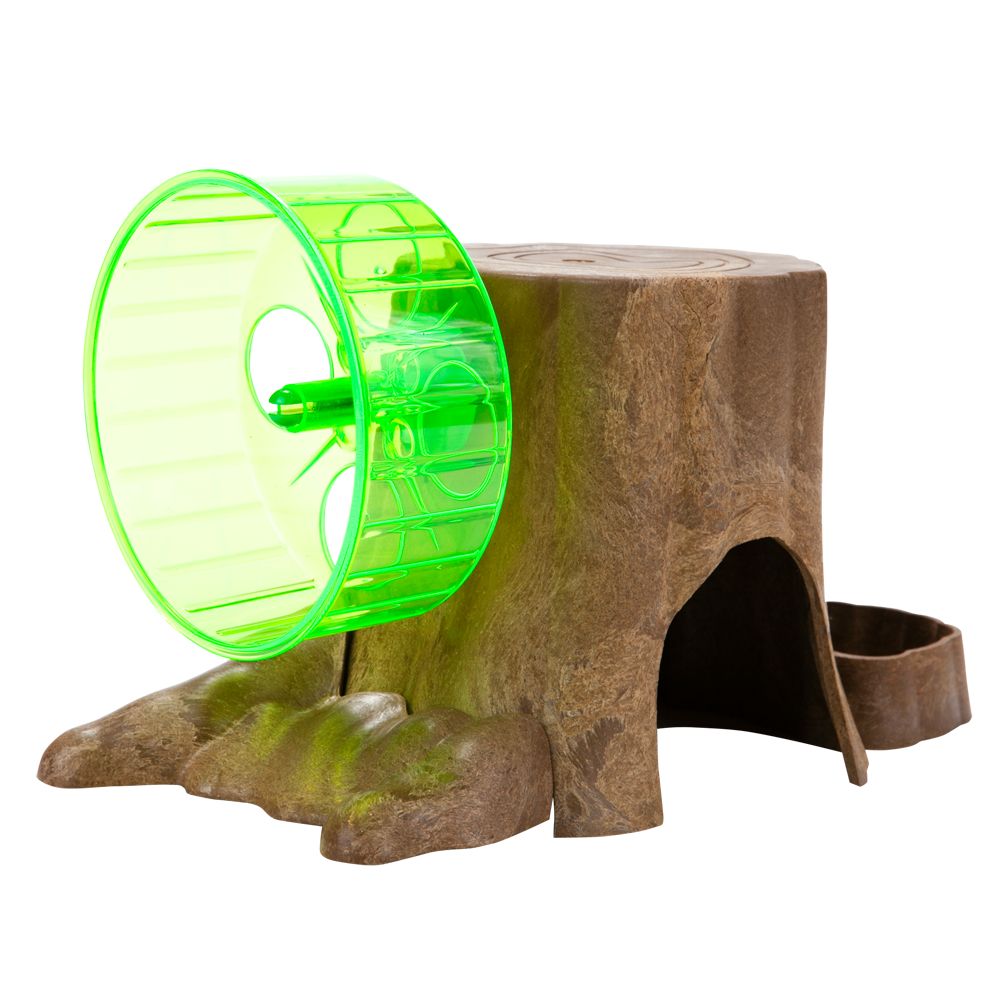 Why so big? Because you'll need space for:
A freestanding exercise wheel
The usual feeding, burrowing, and bathroom areas
Exercise area that might include toys or tubes
Air circulation
You may also need space for a water dish. As you realize, you can't hang a water bottle from the side of smooth glass. However, you can use Velcro to attach a water bottle to the glass. Or you can hang a water bottle from the top of the aquarium.
Weight
A 10 or 20-gallon glass aquarium will weigh a lot more than a wire or a plastic cage. If you can't handle the weight and it drops, a glass aquarium could break. This is not true for wire or plastic hamster habitats.
Once you've put your hamster cage in one location, weight isn't a problem. But it can be an issue when it's time to clean your aquarium. After you empty the aquarium out, you'll have to pick it up and carry it to where there's water. You than have to handle it and move it around to get all the corners clean. Figure an empty 10 or 20 gallon aquarium weighs about 10 to 20 pounds (4.5 to 9 KG). And as you rinse it with water, it will get heavier and harder to move around.
This is why some people say aquariums are hard to clean and some people have no problem cleaning them. It all depends on your ability to handle the weight. So, can you lift 10 pound weights? If you can, you're ready to handle a hamster aquarium.
Ventilation
A typical hamster can run from 3 to 6 miles a day (usually at night). That means your hamster needs moving air to breathe. With glass sides, there is less airflow than in a typical wire cage. Another problem with lack of ventilation is that the fumes and smells from urine and dirty bedding can be trapped inside the cage. These fumes can hurt your hamster.
Finally, if you put your aquarium in direct sunlight, the glass will increase the heat inside the cage. It can get hot enough to kill your hamster!

So to get air in your aquarium you must have a top that lets air in, but keeps your hamster from escaping. The solution is a mesh top that fits securely on the top. That means no spaces or loose edges on the sides that your hamster can wiggle through. The spacing on the mesh should be less than ½ inch.
Some people recommend putting a rock on top of the mesh to prevent your hamster from pushing the top off. But a heavy rock can eventually break the mesh and fall on your hamster. So try using more, lighter rocks.
Cage clips can also be used to help keep the lid on. Just be sure to keep the clips outside the cage so your hammy doesn't decide to chew them up.
Tank toppers can also be used to add both height and air circulation to an aquarium hamster home.
So before you buy an aquarium for your hamster, think about its size and weight and plan for adequate ventilation.
Save
Save
Pin It